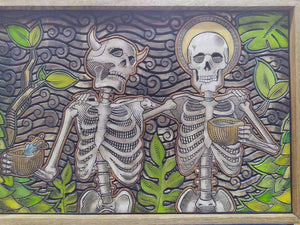 This striking piece of art, captures the unlikely friendship between two skeletons in a forest setting. Carved into wood (pine) and expertly painted, one skeleton is dressed as a saint, while the other is adorned with horns and a tail, resembling a devil. Despite their vastly different appearances, the two skeletons are seen laughing and enjoying each other's company. Framed in a beautiful oak wood, this piece is sure to be a conversation starter in any room, measuring 24 x 32 inches.

Shipping Information
Carefully wrapped in bubble wrap to protect the piece during transit
Placed in a sturdy, custom-fit box for added protection
Filled with packaging peanuts or other cushioning materials to prevent movement
Secured with tape and reinforced with sturdy packing straps
Shipped via a reliable and trackable service to ensure safe delivery.