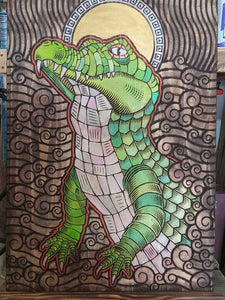 This alligator illustration is carved and painted on a piece of pine wood. The illustration depicts a gator lurking in the water, with a halo behind its head, giving it a unique and mysterious look. The intricate details of the carving and the vibrant colors of the paint bring this illustration to life. This piece would make a great addition to any room and will be a conversation starter. It's perfect for any alligator lover or anyone who appreciates uniquely crafted art. Size is 24 x 32.

Shipping Information
Carefully wrapped in bubble wrap to protect the piece during transit
Placed in a sturdy, custom-fit box for added protection
Filled with packaging peanuts or other cushioning materials to prevent movement
Secured with tape and reinforced with sturdy packing straps
Shipped via a reliable and trackable service to ensure safe delivery.