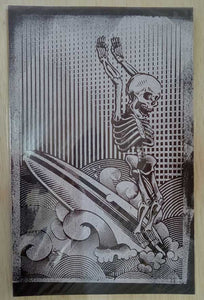 This 11 x 17 woodblock print features a striking image of a skeleton surfing on a black paper background. The use of white ink on the black paper creates a bold contrast, making the image of the skeleton pop. This print is sure to make a statement in any room and is perfect for any surf or skull enthusiast. The woodblock printing technique adds a unique texture and natural feel to the image. This print is a limited edition and is sure to be a conversation starter. Hang it in your living room, office or give it as a gift to a friend.
11 x 17 woodblock print featuring a skeleton surfing image
Black paper background
White ink used to create bold contrast and make the image pop
Perfect for surf and skull enthusiasts
Woodblock printing technique adds unique texture and natural feel
Limited edition
Makes a statement in any room
Great as a conversation starter or gift
Shipping and Packing Details.
Each 11x17 woodblock print comes packaged with care to ensure safe arrival
Print is placed in a removable plastic sleeve
Sturdy piece of cardboard backing to protect during shipping
Extra attention to packaging ensures the print arrives in perfect condition
Safe and sound, ready to be framed or hanged.